---
A bonfire is useful as a light source, it is also used as a beacon at a short distance. You can set a fire at the bottom of the trap and roast zombies on it. It is very convenient to fry meat, fish, kelp on a fire
Minecraft versions: 1.19.2 /1.19.1 /1.19 /1.18.2 /1.18.1 /1.18 /1.17 /1.16
ID: campfire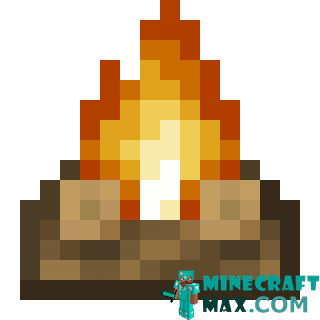 How to craft bonfire
---
Here is how to craft bonfire in Minecraft. The crafting recipe specifies the required ingredients and their location in Minecraft.
There are several recipes for making bonfire in Minecraft. As a result, you need the following ingredients:: This, This and This. These ingredients should be placed on the workbench as shown in the picture below. To open the workbench, you need to right-click on the installed workbench.
What can be done from bonfire
---
Here it is indicated what can be done from bonfire in Minecraft, i.e. which recipes use bonfire in Minecraft.
Get bonfire command
---
Here is the command that allows you to get bonfire in Minecraft, that is, how to create bonfire in Minecraft.
Bonfire can be summoned using a command in creative mode.. This requires:
open chat (press "T")
write command /give @p minecraft:campfire
press "ENTER"
You can also specify the number and to whom bonfire will be issued:
/give @p minecraft:campfire 10
get 10 bonfire
/give MinecraftMax minecraft:campfire
bonfire will be given to the player with the nickname MinecraftMax
---
The command can be written to the command block so that it is executed when a redstone signal is received.