---
A bow in Minecraft is a ranged weapon, with its help you can shoot mobs and other players. In order to shoot, you need to aim and press the right mouse button. As soon as the player releases the button, the arrow will fly at the target. The bow has a certain safety margin, which is spent when shooting. A bow can be enchanted for strength, strength, a burning arrow, but the most useful enchantments are for infinity and repair.. Skeletons use bows, so when a skeleton is killed, a bow may fall out, usually in need of repair. The finished bow is sold by the Archer
Bow as fuel
Bow can also be used as stove fuel. However, using 1 bow it is possible to completely fry an entire 1 block(s). Therefore, it is better to use other types of fuel in Minecraft.
Bow as weapon
Using bow you can do
damage to mobs and other players. This weapon will deal 385 hits before shattering and disappearing. But you can
enchant
#OBJECT# for durability or
repair
to increase durability.
Tricks and tips
---
If you draw your bow all the way down and wait a little longer, the damage is greater (critical damage)
---
If an arrow flies through lava it will become fiery and set the enemy on fire
Minecraft versions: 1.19.2 /1.19.1 /1.19 /1.18.2 /1.18.1 /1.18 /1.17 /1.16
ID: bow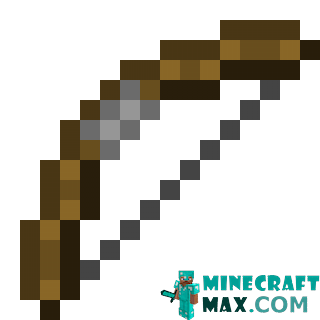 | | |
| --- | --- |
| Burn time | |
| Damage | |
| Toughness | |