---
An anvil in Minecraft is needed in order to be able to repair or rename items. You can also combine enchantments on the anvil if they do not contradict each other.. For example, to repair diamond armor, you need to place diamonds and armor in the anvil windows. With use, the anvil will collapse, this is noticeable by the cracks on it. To move the anvil, you need to break it with a pickaxe
Tricks and tips
---
An anvil can only be broken with a pickaxe to take away with you.
Minecraft versions: 1.19.2 /1.19.1 /1.19 /1.18.2 /1.18.1 /1.18 /1.17 /1.16
ID: anvil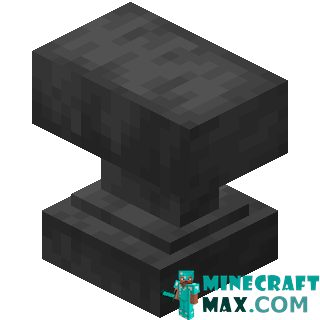 How to craft anvil
---
Here is how to craft anvil in Minecraft. The crafting recipe specifies the required ingredients and their location in Minecraft.
To craft anvil in Minecraft you will need: This and This. These ingredients should be placed on the workbench as shown in the picture below. To open the workbench, you need to right-click on the installed workbench.
Get anvil command
---
Here is the command that allows you to get anvil in Minecraft, that is, how to create anvil in Minecraft.
Anvil can be summoned using a command in creative mode.. This requires:
open chat (press "T")
write command /give @p minecraft:anvil
press "ENTER"
You can also specify the number and to whom anvil will be issued:
/give @p minecraft:anvil 10
get 10 anvil
/give MinecraftMax minecraft:anvil
anvil will be given to the player with the nickname MinecraftMax
---
The command can be written to the command block so that it is executed when a redstone signal is received.