---
Octopus is a friendly mob, found in bodies of water at least 3-4 blocks deep. An octopus is made into an ink sac, and can be used to make a dye
Minecraft versions: 1.19.2 /1.19.1 /1.19 /1.18.2 /1.18.1 /1.18 /1.17 /1.16
ID: squid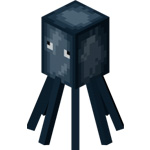 Where to find octopus
---
Here's where you can find octopus in Minecraft, i.e. where octopus in Minecraft.
What octopus gives
---
Here is what you can get from octopus in Minecraft, i.e. which gives Octopus in Minecraft.
Summon octopus command
---
Here is the command that allows you to summon octopus in Minecraft, that is, how to create octopus in Minecraft.
Octopus can be summoned using a command in creative mode.. This requires:
open chat (press "T")
write command /summon minecraft:squid
press "ENTER"
You can also specify the coordinates by which octopus will be called:
/summon minecraft:squid ~ ~ ~
the current coordinates of the player
/summon minecraft:squid 100 ~ 200
X coordinate = 100, Y = current Y coordinate of the caller, Z coordinate = 200
/summon minecraft:squid ~10 50 ~-2
X = current X-coordinate + 10 blocks, Y = 50, Z = current Z-coordinate – 2 blocks
X – coordinate from west to east, Y – height, Z – coordinate from south to north.
---
The command can be written to the command block so that it is executed when a redstone signal is received. This is especially true if the octopus command does not fit in the chat line.