---
The door to Minecraft opens and closes two blocks high. Doors come in all types of wood. and made of iron. Wooden ones are opened simply by right-clicking. Villagers can open and close wooden doors, but other mobs cannot. The Warped Door is crafted from Warped Planks that can only be obtained from the Nether.
Minecraft versions: 1.19.2 /1.19.1 /1.19 /1.18.2 /1.18.1 /1.18 /1.17 /1.16
ID: warped_door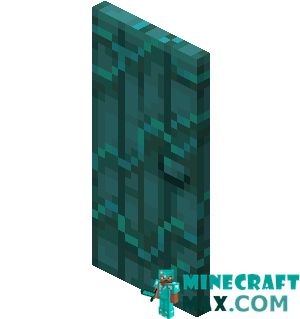 How to craft warped door
---
Here is how to craft warped door in Minecraft. The crafting recipe specifies the required ingredients and their location in Minecraft.
To craft warped door in Minecraft you will need: 6 This. These ingredients should be placed on the workbench as shown in the picture below. To open the workbench, you need to right-click on the installed workbench.
Get warped door command
---
Here is the command that allows you to get warped door in Minecraft, that is, how to create warped door in Minecraft.
Warped door can be summoned using a command in creative mode.. This requires:
open chat (press "T")
write command /give @p minecraft:warped_door
press "ENTER"
You can also specify the number and to whom warped door will be issued:
/give @p minecraft:warped_door 10
get 10 warped door
/give MinecraftMax minecraft:warped_door
warped door will be given to the player with the nickname MinecraftMax
---
The command can be written to the command block so that it is executed when a redstone signal is received.