---
Wieser (Wither) is a hostile boss mob that the player can summon. It is created in the same way as golems, but it has a special property: when created, Wieser has only half of his health, and while he restores it to 100%, he blinks blue, grows and does not take damage. When the mob is fully grown and recovered, it explodes strongly and attacks all living things around it. Wieser fires skull-like projectiles that cannot be repulsed. Upon hit, the player starts the effect of the Sear for a period of 10 to 40 seconds (depending on the difficulty). When Wieser has half his health left, he gains armor from arrows – they just reflect from him. After the death of Wieser, the Nether star will fall out of it.. To make a Wieser, you need to put the sand of souls with the letter T, and on the top three blocks, place one skull of the Wieser skeleton. Spawn will not happen in creative
Minecraft versions: 1.19.2 /1.19.1 /1.19 /1.18.2 /1.18.1 /1.18 /1.17 /1.16
ID: wither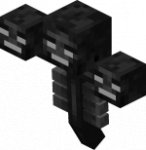 | | |
| --- | --- |
| Effect | Desolation |
| Health | |
| Damage | |
| Experience | |
What wither gives
---
Here is what you can get from wither in Minecraft, i.e. which gives Wither in Minecraft.
What is useful against wither
---
Here are indicated what is useful to use against wither in Minecraft, i.e. what things will be especially useful wither in Minecraft.
Summon wither command
---
Here is the command that allows you to summon wither in Minecraft, that is, how to create wither in Minecraft.
Wither can be summoned using a command in creative mode.. This requires:
open chat (press "T")
write command /summon minecraft:wither
press "ENTER"
You can also specify the coordinates by which wither will be called:
/summon minecraft:wither ~ ~ ~
the current coordinates of the player
/summon minecraft:wither 100 ~ 200
X coordinate = 100, Y = current Y coordinate of the caller, Z coordinate = 200
/summon minecraft:wither ~10 50 ~-2
X = current X-coordinate + 10 blocks, Y = 50, Z = current Z-coordinate – 2 blocks
X – coordinate from west to east, Y – height, Z – coordinate from south to north.
---
The command can be written to the command block so that it is executed when a redstone signal is received. This is especially true if the wither command does not fit in the chat line.